Larry "Fuzzy" Knight's Blowin' Smoke Rhythm & Blues Revue Featuring The Fabulous Smokettes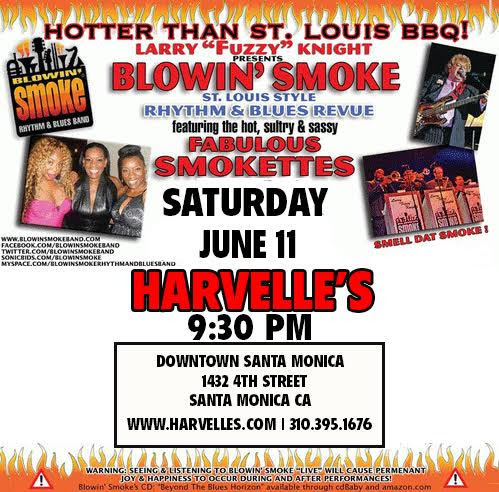 June is Jammin' when Larry "Fuzzy" Knight's Blowin Smoke Rhythm & Blues Revue featuring The Fabulous Smokettes, take the stage at Harvelle's Blues Club, Saturday, June 11, 1432 4th St., in beautiful downtown Santa Monica, a mere few blocks from the Pacific Ocean. Get here early, catch a gorgeous Sunset on the Santa Monica Pier – then head over for a long, racous night of steaming, soaking, sumptuous blues/R&B/soul/funk, that is the Blowin' Smoke Revue! 9:30pm-1:30 am. $10. Info: (310) 395-1676 or santamonica.harvelles.com/.
"If You're Looking To Party This Is The Band To See" /LA JAZZ SCENE
Reviewing a recent Blowin' Smoke live show, LA JAZZ SCENE writes, "The Blowin Smoke Rhythm & Blues Band featuring the Fabulous Smokettes rocked the house at Mrs. Fish. Band leader Larry "Fuzzy" Knight – who somewhat resembles Elvin Bishop – brought "The Fabulous Smokettes" up to tear up the club with Aretha Franklin's "Chain of Fools" and Bonnie Raitt's "Something to Talk About" that both featured the band wailing away too. If you're looking to party this is the band to see." Readthe  entire review here.
Blowin' Smoke Bandleader/front person, Larry "Fuzzy" Knight.
As Knight himself says, "Size matters and bigger is better! Blowin' Smoke is a band that will give it to you…sometimes sweet, sometimes hard! But when we're done pouring it on you,  you gotta come back for more".
Blowin' Smoke Rhythm & Blues Revue/Words Of Praise From The Media
"By the time we got to Harvelle's, the room was already packed with people…The Boss (band leader Larry "Fuzzy" Knight") began their evening's musical journey through their own world of electronic rhythm and blues, funk, rock, and Southern soul. The dance floor was soon flooded; at one point the club had reached it's legal maximum capacity. No one could move – but, listening to Knight and his red-hot ensemble, no one could help but move". Highlights of the evening included the band performing "C.O.D." from their album, a cover of Buddy Guy's "Midnight Train", and their wonderful singers (the Smokettes) covering such R&B chestnuts as "Rock Steady", "I'll Take You There", Bonnie Raitt's "Something To Talk About" and Labelle's "Lady Marmalade".All in all, a performance that lives up to the hype".
"The Blowin' Smoke Rhythm & Blues Band with the Fabulous Smokettes packed Harvelle's with a crowd that was there to enjoy great music played the way it should be. Larry "Fuzzy" Knight has the kind of voice that is perfect for the blues, a little gritty but with excellent range. Guitarist Dave 'Raven' Rutchinski demonstrated his skill on a Stevie Ray Vaughan song, "Crossfire", wringing a ton of emotion out of his guitar. "C.O.D." with John 'JT' Thomas on organ, showcased the instruments along with Fuzzy's powerful vocals. This is music played and sung the way it was meant to be and "Fuzzy" Knight knows how to get the best out of his musicians and singers".
Larry "Fuzzy" Knight Interview – Orange County Blues Society
Beyond The Blues Horizon – CD Review (BMans Blues Report)
Live Show Review – Los Angeles Beat
Larry "Fuzzy" Knight Feature – The Argonaut
BLASTMUSIC247.COM
HeartBeat4Kids
Donate to IndiePulse Music Magazine's Academic and Music Education Scholarship Program HeartBeat4Kids
IndiePulse Music Magazine creates Scholarships to help Youth In Need of assistance to complete their educational goals and stay in school.
Go to http://www.indiepulsemusic.com/heartbeat4kids to learn more, Donations can be made at http://www.paypal.me/xmg – Any Amount will help!