Wovenwar to Release New Album
On October 21st, Wovenwar will release their sophomore album, Honor Is Dead, via Metal Blade Records. More aggressive and fluid than its self-titled predecessor, Honor Is Dead was written with contributions from all members, while the music for Wovenwar was mostly written before vocalist Shane Blay joined the band. The results speak for themselves, capturing a group that sounds truly unified, and hungry.
To hear the new single, "World On Fire", please visit AltPress.com: http://www.altpress.com/features/entry/wovenwar_up_the_aggression_on_honor_is_dead_gear_up_to_tour_as_a_four_piece – where a drum play-through for the track can also be viewed, alongside an exclusive interview with Jordan Mancino (drums).
For another preview of Honor Is Dead, head over to metalblade.com/wovenwar – where a concept video (by Wovenwar's own Nick Hipa!) for "Censorship" can be viewed, and the record can also be pre-ordered. See below for available formats:
–CD
–limited edition CD/DVD (Europe – 5000 copies only!)
–box-set (limited to 600 copies!)
–180g black vinyl
–Steel-grey marble vinyl (limited to 300 copies!)
–Clear/black marble vinyl (EMP exclusive – limited to 200 copies!)
*an exclusive t-shirt bundle, plus digital options are also available!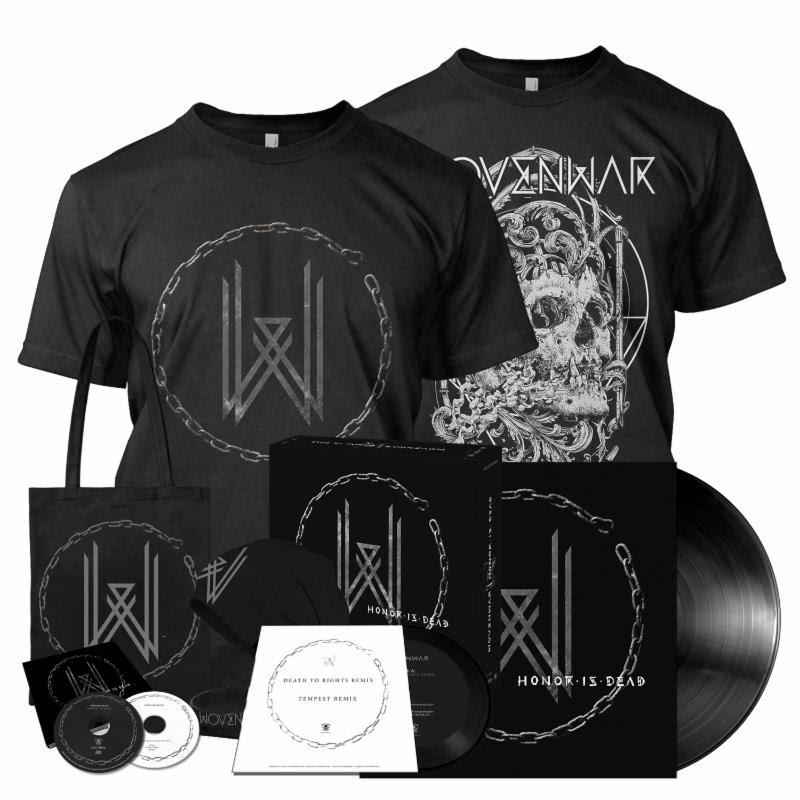 For Honor Is Dead, Wovenwar chose not to converge at the same studio to lay down the record, taking advantage of modern technology instead by recording their individual parts in convenient locales across California, Alabama and Texas – which was not without its downsides. "Recording separately across multiple states at different times with a mixing engineer bouncing between multiple countries made things very tricky," guitarist Nick Hipa admits. "Luckily we've all made records before and everything ended up working out." Expanding upon the ruthlessly catchy melodies and hooks of their debut, Honor Is Dead makes for a listening experience with real depth, and a broad emotional range. Driven by a darker lyrical theme, the album's 11 tracks hit with devastating force – see below for the official track-listing!
Honor Is Dead track-listing
1. Confession
2. Censorship
3. Honor Is Dead
4. Lines in the Sand
5. World on Fire
6. Compass
7. Stones Thrown
8. Cascade
9. Silhouette
10. Bloodletter
11. 130
This week, Wovenwar will embark on a North American tour with Soilwork, Unearth, Battlecross, and Darkness Divided – see below for all dates!
Wovenwar tour dates
w/ Soilwork, Unearth, Battlecross, Darkness Divided
Oct. 14 – Providence, RI – Fete Music Hall
Oct. 15 – Stanhope, NJ – Stanhope House
Oct. 16 – Virginia Beach, VA – Shakes
Oct. 17 – Carrboro, NC – Cats Cradle
Oct. 18 – Atlanta, GA – The Loft
Oct. 20 – Ft. Worth, TX – The Rail Club
Oct. 21 – San Leon, TX – 18th Street
Oct. 22 – Austin, TX – Empire Control Room
Oct. 24 – Mesa, AZ – Nile Theater
Oct. 26 – Pomona, CA – Glass House
Oct. 27 – San Francisco, CA – DNA Lounge
Oct. 29 – Seattle, WA – Studio Seven
Oct. 30 – Spokane, WA – The Pin
Nov. 1 – Jerome, ID – Diamondz Event Center
Nov. 2 – Salt Lake City, UT – Metro
Nov. 3 – Denver, CO – The Summit
Nov. 5 – St. Louis, MO – Fubar
Nov. 6 – Louisville, KY – Diamond Pub Concert Hall
Nov. 8 – Cudday, WI – The Metal Grill
Nov. 9 – Ringle, WI – Q&Z
Nov. 10 – Arlington Heights, IL – Home Bar
Nov. 11 – Flint, MI – The Machine Shop
Nov. 12 – Pittsburgh, PA – Diesel
Nov. 13 – New York City, NY – Gramercy
Nov. 15 – Ottawa, ON – The Brass Monkey
Nov. 16 – Toronto, ON – Rockpile
Wovenwar online:
http://www.wovenwar.com
https://www.facebook.com/wovenwar
https://twitter.com/WOVENWAR
https://www.instagram.com/WOVENWAR
https://www.youtube.com/user/WOVENWAR
https://www.facebook.com/nickhipaofficial
https://www.facebook.com/philsgrossoofficial
https://www.facebook.com/joshgilbertofficial
https://www.facebook.com/jordanmancinoofficial
http://www.facebook.com/shaneblaymusic
BLASTMUSIC247.COM
HeartBeat4Kids
Donate to IndiePulse Music Magazine's Academic and Music Education Scholarship Program HeartBeat4Kids
IndiePulse Music Magazine creates Scholarships to help Youth In Need of assistance to complete their educational goals and stay in school.
Go to http://www.indiepulsemusic.com/heartbeat4kids to learn more, Donations can be made at http://www.paypal.me/xmg – Any Amount will help!