Garth Adam Tells How He Recorded His Latest Single With $20 Worth Of Raffle Tickets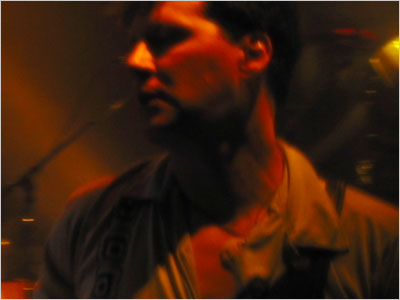 My new single is called "Seawall" . On the insistence of my partner Shannon I bought $20 worth of raffle tickets at a school music fundraiser and won 5 hours of recording time with an engineer at a community-owned studio at the Bondi Beach Pavilion in Sydney. I called my friend Dave and said why don't we do a co-write track here for the fun of it?
I contacted David Walsh who he told me used to be an engineer for many years but gave it away a few years ago to sell bikes and so he could have a life with ordinary hours for his family. Only Vampires spend more time working at night than studio engineers.
I sent him a track from the last EP and set up a time to record. We met him at the studio, shook hands and almost immediately he revealed that he had been nervous about doing the session. As a fellow school parent, he had totally been talked into being part of the prize. He told us that when he heard the earlier track he said to his partner, "What have I gotten myself into? These guys are professionals!" That summation may be up for debate, but we all sure got on well from that point onwards.
At the very same time we were in our soundproof recording booth behind Bondi Beach, a bar mitzvah for more than 200 kids was going on in the courtyard right outside the studio door – replete with large jumping castles and DJs pumping out sugary pop music. In addition, there was an open-air concert onBondi Beach featuring the John Butler Trio and Xavier Rudd to another 5,000 people. Bondi was certainly the entertainment centre of Sydney for that brief afternoon.
Website – https://www.garthadam.com
Social Media – https://www.reverbnation.com/garthadam
Listen to "Seawall" – https://open.spotify.com/track/1uu7jvgDD0vI4gzMbqpgPi
BLASTMUSIC247.COM
HeartBeat4Kids
Donate to IndiePulse Music Magazine's Academic and Music Education Scholarship Program HeartBeat4Kids
IndiePulse Music Magazine creates Scholarships to help Youth In Need of assistance to complete their educational goals and stay in school.
Go to http://www.indiepulsemusic.com/heartbeat4kids to learn more, Donations can be made at http://www.paypal.me/xmg – Any Amount will help!