Anaal Nathrakh reveals details for new album, 'The Whole of the Law'
Anaal Nathrakh reveals details for new album, 'The Whole of the Law'; streams new single, "Depravity Favours the Bold"; set to kick off worldwide tour this weekend
Anaal Nathrakh was created for one purpose – to be the soundtrack for Armageddon, the audial essence of evil, hatred and violence, the true spirit of necro taken to its musical extremes. Since 1999, they have gained a reputation for embodying precisely these things – and now, with their new album, The Whole of the Law, Anaal Nathrakh has reached the very height of their twisted powers. Due out October 28th via Metal Blade Records, The Whole of the Law marries all of the two-piece's trademark ferocity and against-all-reason-catchiness with a reinvigorated sense of focus and insane hatred. For a first preview of the album, the new single, "Depravity Favours the Bold", can be streamed at: metalblade.com/anaalnathrakh
The Whole of the Law is available for pre-order at metalblade.com/anaalnathrakh in the following formats:
–CD
–digipak CD (limited to 3000 copies!)
–180g black vinyl
–cool grey marble vinyl (limited to 300 copies!)
–black/white splatter vinyl (EMP exclusive; limited to 200 copies!)
*an exclusive t-shirt bundle, plus digital options are also available!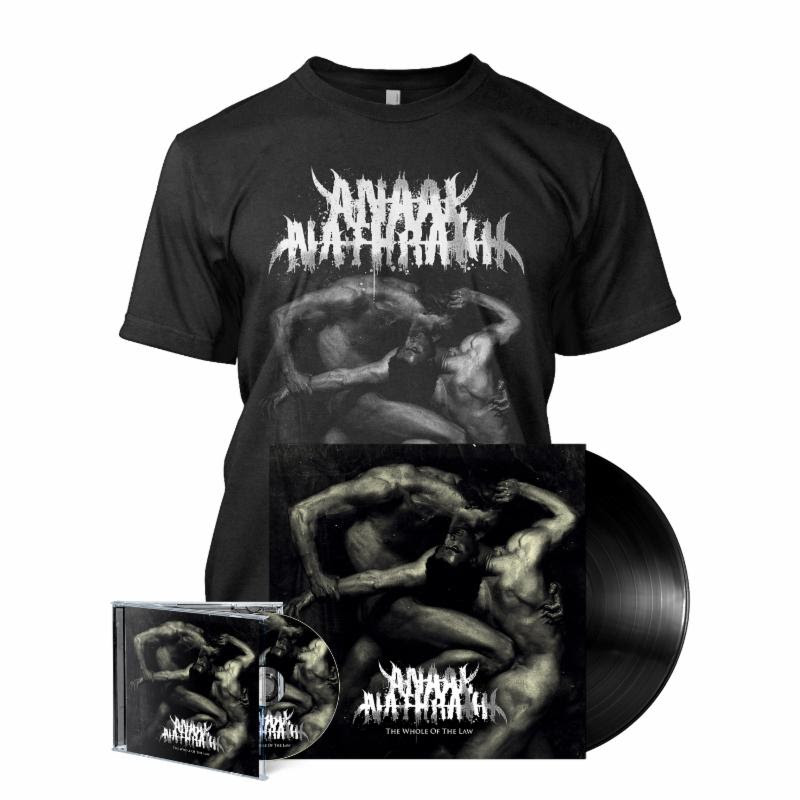 Uniquely hallmarked by breathtaking musical intensity, inventiveness and breadth, married with mercurial, misanthropic and sharp intelligence, Anaal Nathrakh's sound is imbued with a palpable sense of menace that is virtually unmatched in metal. Hailed as "terrifyingly heavy and fierce" (Decibel Magazine), "a master class in extreme metal" (MetalSucks.net), and "…a thrill ride of horrors" (Pitchfork.com) for their previous eight albums and EP, Anaal Nathrakh has out-done themselves with The Whole of the Law, a sandblasting assault similar to the experience of a demented ocular surgeon operating on one's head while riding a rollercoaster through hell. Simultaneously fresh and their most mature creation to date, The Whole of the Law will surely earn accolades from fans and media alike, once again. See below for the official track-listing!
The Whole of the Law track-listing
1. The Nameless Dread
2. Depravity Favours the Bold
3. Hold Your Children Close and Pray for Oblivion
4. We Will Fucking Kill You
5. …So We Can Die Happy
6. In Flagrante Delicto
7. And You Will Beg for Our Secrets
8. Extravaganza!
9. On Being a Slave
10. The Great Spectator
11. Of Horror, and the Black Shawls
12. Powerslave (Bonus Track)
13. Man at C&A (Bonus Track)
Before The Whole of the Law's release, Anaal Nathrakh will embark on a worldwide tour, which includes their first headlining shows in Japan this weekend (August 19-21)! See below for all upcoming dates.
Anaal Nathrakh tour dates
Aug. 19 – Osaka, Japan – Shinsaibashi SOMA
Aug. 20 – Shizuoka, Japan – Sunash
Aug. 21 – Tokyo, Japan – Shinjuku Ruido K4
Sept. 2 – London, UK – Underworld
Sept. 3 – Manchester, UK – Rebellion
Sept. 4 – Birmingham, UK – Hare & Hounds
Sept. 8 – Munich, Germany – Feierwerk
Sept. 9 – Vienna, Austria – Escape
Sept. 10 – Prague, Czech Republic – Modra Vopice
Oct. 21 – Rasnov, Romania – Rockstadt Extreme fest
Nov. 1 – Utrecht, Netherlands – De Helling
Nov. 2 – Hasselt, Belgium – Muziekodroom
Nov. 3 – Groningen, Netherlands – Simplon
Nov. 4 – Oberhausen, Germany – Helvete
Nov. 5 – Selestat, France – Rock Your Brain Festival
Anaal Nathrakh line-up:
Mick Kenney – guitars/bass/programming
V.I.T.R.I.O.L – vocals
Anaal Nathrakh online:
http://www.anaal-nathrakh.com
https://www.facebook.com/Anaalnathrakhofficial
https://twitter.com/ANOfficial
https://www.youtube.com/user/anaalnathrakhtv
BLASTMUSIC247.COM
HeartBeat4Kids
Donate to IndiePulse Music Magazine's Academic and Music Education Scholarship Program HeartBeat4Kids
IndiePulse Music Magazine creates Scholarships to help Youth In Need of assistance to complete their educational goals and stay in school.
Go to http://www.indiepulsemusic.com/heartbeat4kids to learn more, Donations can be made at http://www.paypal.me/xmg – Any Amount will help!